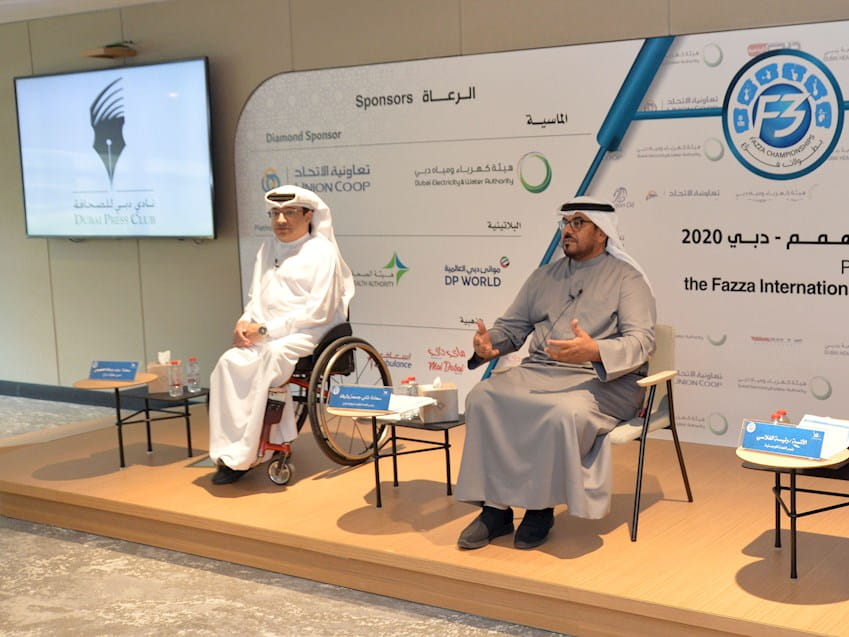 February 12, 2020
6th Fazza Para Archery C'ships to begin next week
The 6thFazza Para Archery World Ranking tournament will open the new season of the Fazza International Championships for People of Determination – Dubai 2020, beginning next week.
The archery competition, scheduled for February 16 to 22, 2020, will be followed by Wheelchair Basketball, Para Athletics, Para Badminton, Para Powerlifting championships in the months of February to April, while Boccia Championships will sign off the year in December, said the organisers.
Moreover, the Fazza Athletics (March 14-17) and Fazza Powerlifting Championships (April 14-20) will be last qualifying events for Tokyo 2020 Paralympic Games, making Dubai as one of the important stops for the athletes in their busy schedule.
At the official launch Press Conference of the Fazza Championships at the Dubai Press Club on Wednesday, Chairman of the Organising Committee and Chairman of Dubai Club for People of Determination, His Excellency Thani Juma Berregad said: "We are very proud and happy to be able to organise the Fazza International Championships for the last 11 years. It's a huge responsibility and I would like to thank the team who worked tirelessly throughout the years to support the People of Determination.
"For me personally, working for the People of Determination has made me stronger. In this New Year, our goal remains the same – technically we want to be on the front.
"I am quite confident that you will be inspired and learn something new attending this edition of tournaments. Our mission is not just to have participation or see one winning, but to integrate people of determination in the society, integrate them within themselves and empower them. So, come and join us to witness the power of People of Determination and convey their message to the society," Mr. Berregad added.
Executive Director of the Championships His Excellency Majid Al Usaimi added: "The Crown Prince of Dubai His Highness Sheikh Hamdan bin Mohammed bin Rashid Al Maktoum had a clear vision of making this Fazza Championships as a gateway for the People of Determination. He wanted to change the perception of the society towards this section of people. And we have a long way now, making the championships a complete system holding 200 workshops and training programmes.
"Our goal is to have quality not quantity and we have a concept of knowledge sharing. I would like to thank His Highness Sheikh Hamdan for his trust and support all these years," said the President of Asian Paralympic Committee (APC).
World No. 1s to headline Archery field
Local fans will witness a strong field, including World No. 1s among the 30 world ranked players in action, in Recurve Men and Compound Women categories when the Fazza Para Archery tournament begins this Sunday.
As many as 113 archers from 23 countries will line up at the Dubai Club for People of Determination new ground, with World No. 1s - Malaysia's Suresh Selvathamby, Singapore's Nur Syahidah Alim, Turkey's Bahattin Hekimoglu and Elena Krutova from Russia among the top names headlining the field.
Slovakia's veteran Marcel Pavlik and Great Britain's promising star Jessica Stretton will also be among mix next week.